PPC For Gain High-Level Brand Exposure and Attract More Leads
Pay-per-click (PPC) is an online hack and technique leveraged for online advertising. An advertiser makes payment to a publisher when an advertisement link is clicked on.
That's the reason it's being called PPC. This practical model is also known as CPC (cost-per-click).  The PPC model of advertising is being leveraged by Google and Facebook for PPC targeting.  
Understanding your business-centric audience's demography is vital in determining the significance of the Pay Per Click marketing.
Generally, people imagine Google when thinking about PPC ads. It's misconceived notion. Fact is – technical PPC model is being extensively used to promote product and services by companies and influential personalities. Social media sites, like YouTube, Facebook, Instagram, Pinterest, and LinkedIn are being leveraged to gain the targeted audience with the help ofPPC management services, PPC advertising, PPC services, PPC campaigns and PPC managementamong others.    
Our Paid Advertising Management
The Best Solutions for Our Clients
Ad nec unum copiosae. Sea ex everti labores, ad option iuvaret qui. Id quo esse nusquam. Eam iriure diceret oporteat.
Tritani periculis vix an. At eam nostrud eruditi, his quem purto nulla an.
Tritani periculis vix an. At eam nostrud eruditi, his quem purto nulla an.
Tritani periculis vix an. At eam nostrud eruditi, his quem purto nulla an.
Our comprehensive PPC campaign management services designed by PPC experts and PPC accountsexpertsinclude keyword research as the foundation, with niche long tail keywords aimed to boost conversion rates.
Our Search advertising solutions help businesses get in front of relevant audience by outperforming the competition in the search results. We ensure that our PPC campaigns, PPC search engine marketing (SEM) goals and PPC strategy deliver the desired results.
With display advertising strategies and solutions, PPC company helps to generate traffic to your website, retaining value to visitors across the advertising platform. As a leading PPC agency and PPC audit service provider, we utilize the right strategy to create ads.
Remarketing and Retargeting
We employ remarketing strategies to engage with prospects through an interaction medium – emails, social media, shopping sites, etc. We continue to remind these customers about the websites.
We help businesses create product listings and develop marketing campaigns to derive leads efficiently. Our plans target the right set of audience for ensuring quick sales.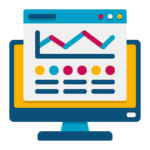 Enabling businesses to scale-up leveraging upon the range of digital platforms remains our foremost priority! Employing the intricacies of the domain, we generate weekly and monthly reports continuously.
Different types of PPC campaigns
Search Ads
Display Ads
Social Ads
Google Shopping Ads
You have the freedom to choose the campaign that best complements your brand and business. Our PPC Services will help you choose the right campaign!   
You might have come across PPC campaigns on various social media platforms, these could be online shopping, content browsing or gaming. Our expert PPC marketers position your ads on a wide range of digital marketing platforms. The objective is to make your product and services visible to the targeted audience. And help you get optimized results.        
Enabling companies to scale-up business
Don't hesitate to take support; we commit to respond within 24 hours!
What is Pay-Per-Click and How does it work?
PPC means Pay-Per-Click. It is part of digital marketing where in advertisers pay fees only when ads are clicked. You are buying visits to your company website. PPC ads are subject to auction. It's an automated process of search engines like Google that determines the importance and relevance of advertisement.
What is PPC?
PPC (Pay-Per-Click) is an online advertising model wherein an advertiser pays a publisher when the advertisement link is clicked on.
What are the different types of PPC ads?
PPC ads comprise search ads, display ads, remarketing ads, video ads, shopping ads, paid social ads, Gmail sponsored ads, etc.
Does PPC marketing work for your business?
Unlike traditional paid advertising, PPC provides complete control and monitoring to the advertiser. Basis the analysis of campaigns, companies can boost or reduce ad expenses.
What is Search Engine Marketing?
Search Engine Marketing is a digital marketing strategy. Its objective is to increase the visibility of a website in search engine results pages (SERPs).
How Digimark's PPC services are better than others?
Our PPC services are designed keeping in account the business objective of the client, after a comprehensive analysis of the competitors.